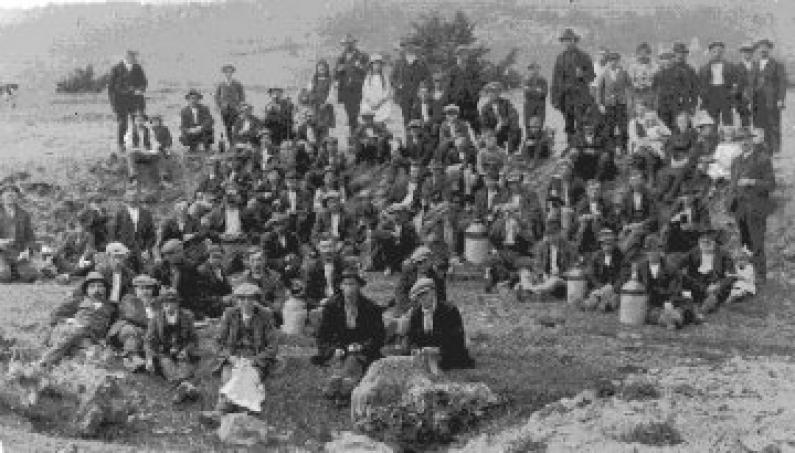 You might expect that working conditions and safety at work would have improved for miners by the late 1920's when compared with previous times. However this was not necessarily so!
We have a first-hand account of what working life was like in the New Fancy pit in 1928 and 1929. Henry William R (Harry) Roberts was born in Cinderford in 1914. Unfortunately his father was killed in the First World War and Harry had to start work at New Fancy Colliery in 1928 at the age of 14. In 1930 his mother decided to return to London with the family, so Harry ceased work at New Fancy and started a new life in London. He returned to the Forest of Dean some 45 years later, and provided a graphic account of 'life at the New Fancy coal face' to researchers at Dean Heritage Centre in 1983.
Here are just a couple of extracts from Harry's account of life underground:
On the journey down the 860 feet deep pit shaft at the start of the shift;
 "The cage actually fell three quarters of the way down the shaft before the application of the brake giving the sensation of going back up. There was no roof on the cage and the water poured from the sides of the shaft at about the rate of rain in a heavy storm, we were all soaking wet when we stepped out into the pit bottom."
 On how a horse saved him and others from disaster underground:
 "I was about halfway to the pit bottom when I came to a horse and its driver, he was older than I, probably seventeen or eighteen years of age, he said he could not get the horse to move. I suggested that we backed up a few yards as the animal was showing signs of fear. By this time my two Butties had joined us, peering ahead with their cupped candles held out in front, we went back a few more yards, there was only the sound of breathing, then a slight noise as if two lumps of sugar had been thrown to the ground, in the next few seconds the top came down for a distance of about 40 feet in the position where the horse had stopped in the first place, and we all realized our lives had been saved by the horse."
You can download Harry Roberts' full account of working life underground at New Fancy here....
"Life at the New Fancy coal face in 1928" is reproduced by permission of the Dean Heritage Centre