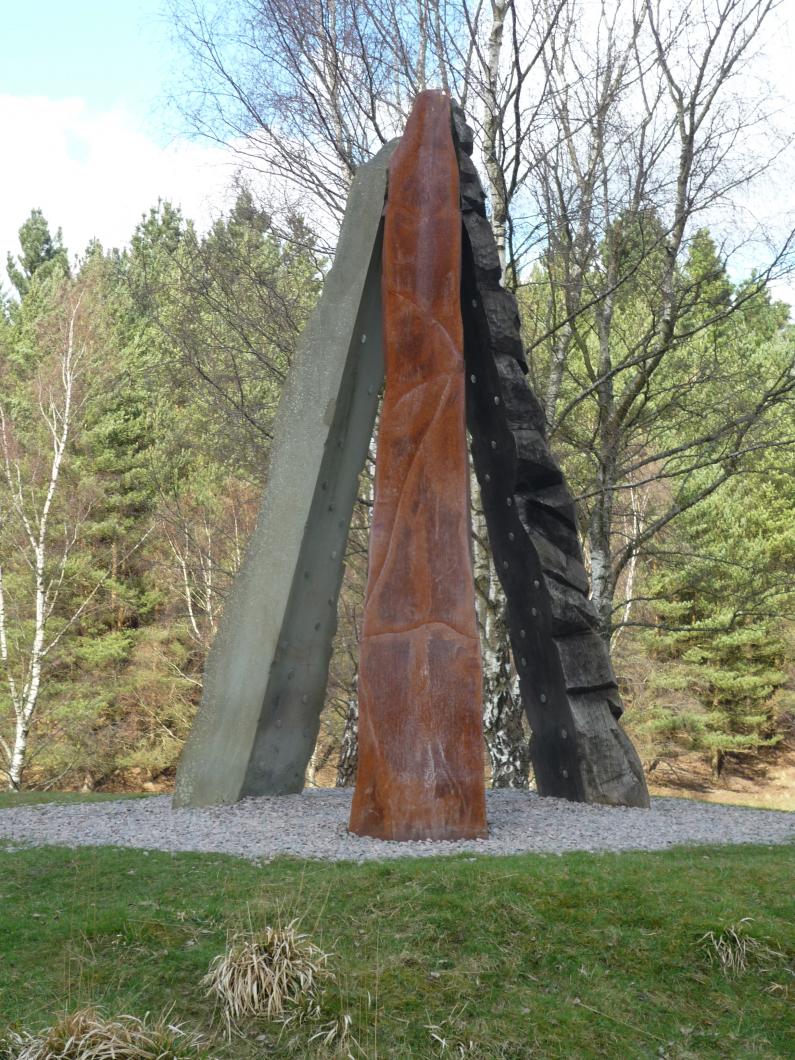 Colloquially known as 'The Miners Memorial', more correctly known as the 'Roll of Honour Sculpture'
In 2003, the History Society announced a competition, asking sculptors, woodcarvers and metal workers residing in the Forest of Dean who might be interested to submit designs for a permanent memorial to the miners and quarrymen of the Forest of Dean who had lost their lives in accidents whilst at work.
Five designs were submitted for judging. The winning design was submitted by John Wakefield and Graham Tyler. The three arms of the sculpture represent the three elements which were mined and quarried, namely coal, iron and stone. The finished sculpture is 11 feet in height, with the coal element represented by blackened Forest oak, the iron element represented by fabricated and pre-rusted steel, and the stone element being sourced from Forest of Dean bedrock. Each of the elements has set into it a number of stainless steel discs, meant to be similar to the 'Checks or Tokens' carried by Miners in the event of an accident in order to determine who was still underground.
The three elements were then mounted on a steel chassis, before installation at the New Fancy amenity site in 2005.
Descriptive plates were then installed adjacent to the sculpture, including a description in braille.
The Roll of Honour Sculpture prior to installation at New Fancy.
The photograph shows the sculptors, John Wakefield (left), and Graham Tyler (right).
Where Can I See the Roll of Honour Sculpture?
The Roll of Honour Sculpture is at the New Fancy Viewpoint in the Forest of Dean,Gloucestershire, two miles south of the Speech House Hotel (see map).
Follow the A40 out of Gloucester, picking up the A4136 towards Monmouth, or take the A48 from Chepstow to Lydney 
At New Fancy you will find the Roll of Honour sculpture on a small mound adjacent to the car park, opposite the Geomap which the History Society installed in 2008. There is disabled access.
 To learn more about the Roll of Honour Sculpture, before your visit to the New Fancy Viewpoint, download the New Fancy Visitors Guide.