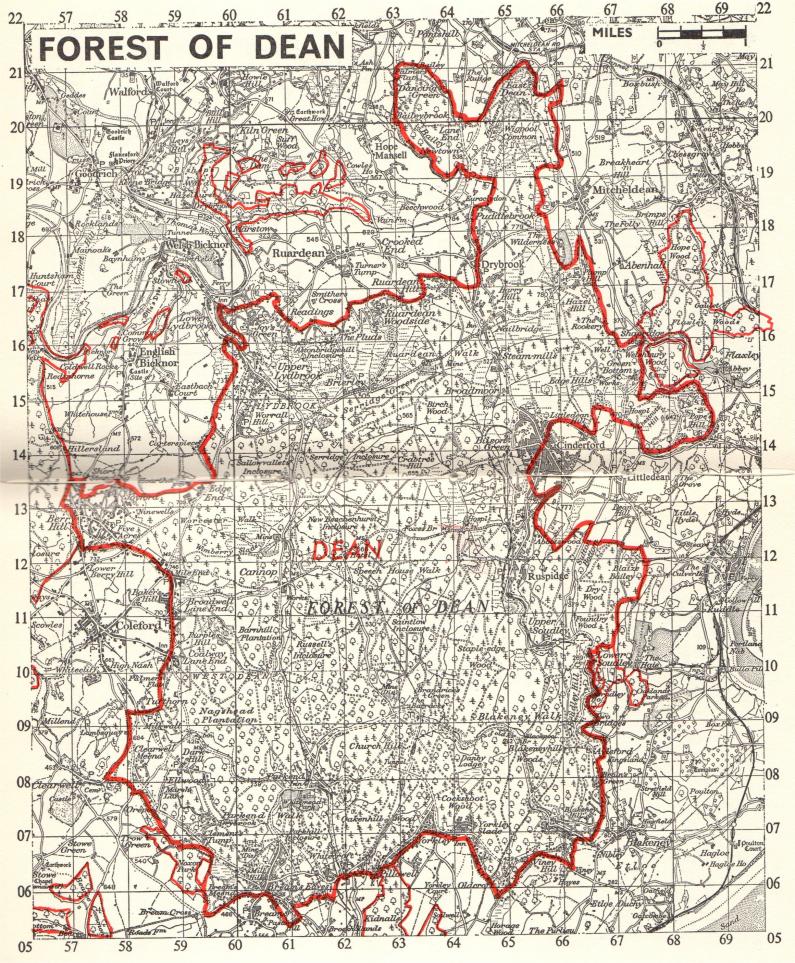 The Forest of Dean has a long history, but its shape and form has always depended on what the political masters of the time have required from it.
Early Days
In Anglo Saxon times there was no specific woodland or hunting jurisdiction with associated administrators, laws and courts. The Normans brought the 'forest' system of administration with them from the continent. The formidable forest law introduced by the Normans was imposed upon the people living in the districts of forest reserved for the King's hunting and larder provisioning. It is believed that the local area of forest was first named the 'Forest of Dene' around the year 1080, and harsh forest laws persisted here during the eleventh, twelth, and thirteenth centuries.
Forest Law
In the 13th century the area of land locally subject to the forest law was that contained between the rivers Severn and Wye, extending northwards as far as Ross on Wye, Newent and Gloucester. Over the centuries there were several revisions in the boundaries of the area. After 1833 the boundaries of the Forest of Dean (the statutory forest) were restricted to the 'royal demesne', as shown in the map. The Forestry Commission does however continue to own and manage local forest land outside the statutory forest boundaries.
The Industrial Past of the Forest
For a thousand years timber was in demand to make charcoal for iron smelting, and in medieval times timber from the Forest was used for mining purposes, oak was used for shipbuilding and general construction, and oak bark was used in the tanning industry.
Much ancient woodland was destroyed to make charcoal for the iron industry in the 16th and 17th centuries, and iron forges were closed down by royal decree on a number of occasions to safeguard the growing timber stock. A policy of enclosure was begun in the 1660s to enable the production of shipbuilding timber. The policy lost momentum during the 18th century, but large new enclosures were introduced in the 19th century and planted with oak trees. Conifers were introduced into the Forest on a large scale in the 19th century to shelter the plantations of young oak trees. Conifer was also the preferred species to plant in the 20th century and would have become the predominant species in the Forest until a policy change in 1971, when it was decided to retain equal proportions of conifer and broad leaved trees.
Changing Times
Subject as always to economic and political forces, the Forest has changed many times over the centuries. In medieval times it was a royal hunting forest, before becoming a source of timber for the navy's Tudor warships. By Victorian times industry became predominant, with coal mines and tramways littering the forest landscape. In more recent days the Forestry Commission has introduced a twin policy of producing timber and encouraging the public to enjoy leisure activities in the Forest.