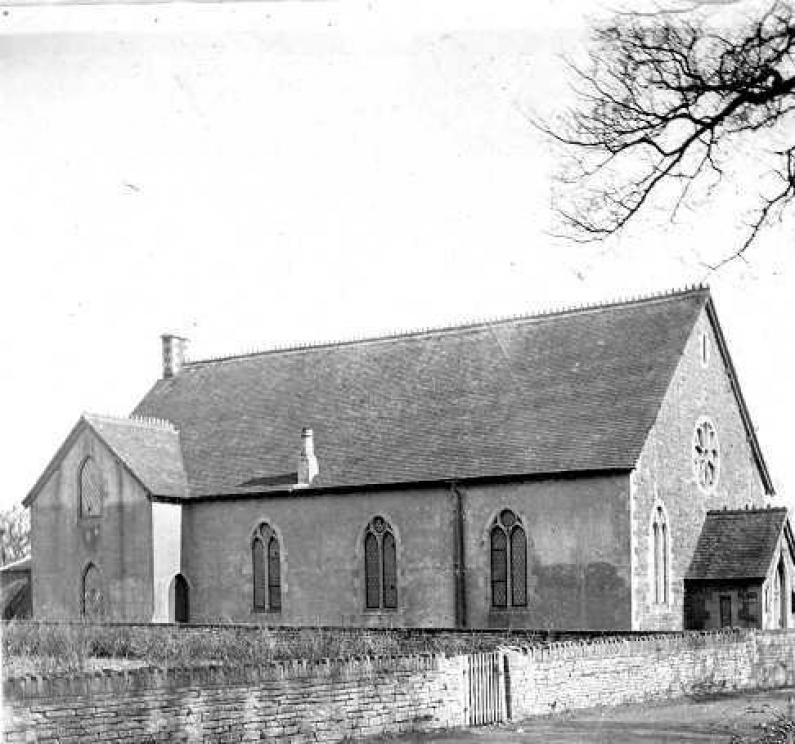 The Forest bordering Wales has the earliest recorded churches. Tidenham had a church by AD 700, and the Norman churches at St. Briavels and Hewelsfield indicate Welsh origin. No early ministers are documented within the Forest of Dean but large areas undoubtedly had some sort of meeting place or chapel for Christians to worship. These would have included Westbury-on-Severn, Lydney, and Newent, Ross, Walford and Dymock. In AD1140 the Abbey of Flaxley was founded by Roger, the Earl of Hereford's eldest son, who named it the Abbey of St. Mary de Dene.
Cathedral of the Forest
The Church of All Saints at Newland, traditionally known as the 'Cathedral of the Forest', was begun in the early 1200s. The Forests first consecrated churches or chapels were Christchurch, Berry Hill (1816) Holy Trinity, Drybrook (1817) and St. Paul, Parkend (1822). 
In 1842 the Forest was divided into four ecclesiastical districts, one being for a new Church, St. John the Evangelist at Cinderford. More churches and school-chapels soon followed including the churches at Lydbrook and Viney Hill and missions were opened in lesser hamlets before the First World War, some of them organized by Bream, Clearwell, and Coleford churches, which in the later 19th century were given charge over parts of the Forest.
NonConfirmists
When records do begin to appear it is obvious from the strength of the groups that nonconformity had been in existence for some time. In 1660 the Society of Friends (Quakers) were holding meetings at Coleford and Aylburton. Their leader George Fox kept a diary about these meetings as in 1668 when he states "and then on the first day we had a large generall meeting in the forrest of Deane and all was quiet"
Benfield House in Newland was licensed for worship by the Presbyterians in 1689, and in 1691 the house of James Baylis at Blakeney was licensed for worship by Protestant dissenters.
Dissenters were noted in Mitcheldean as early as 1623 when a man was reprimanded for interrupting the rector during a service in Mitcheldean Parish Church, and tradition has it that there was an Independent church as early as 1662.
Baptists first appeared around 1603. The earliest notice being found in a letter dated 1653 where among the signatures on the bottom appear William Skinne, John Mills and Francis Pebb "Elders, in the name and on behalf of the Church Baptised in the Forest of Dean".
In 1739 Methodism emerged after George Whitefield preached in Coleford, and in 1756 John Wesley was welcomed when he visited Coleford and wrote in his journal "We reached Coleford before seven, and found a plain loving people, who received the word of God with gladness". He visited again in 1763.
Church of England
In 1783 Richard Stiff came from Dursley to live in Blakeney. He helped to establish independent chapels at Littledean, Cinderford and Soudley and Lydney.John Horlick on his visit to the Forest of Dean around 1832 notes how religion was taking a hold in the nonconformist chapels throughout the Forest and as Chapel religion became more popular and more widely respected it came to realise that it was on an equal footing with the Anglican Church.
The downfall in membership has meant closure for many of the chapels but a large number remain unaltered and are still a standing testament to the strength of nonconformists in the Forest of Dean.