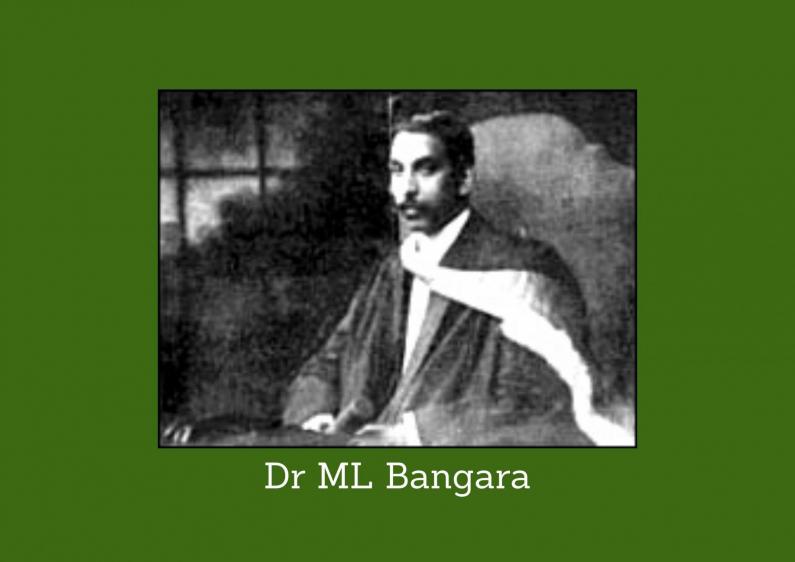 Well-loved community doctor
Dr Mangalore Laxumana Bangara was born in Mangalore (now Mangaluru), Nr Madras, Karnataka, India.
Bangara came to England in 1906, travelling from Bombay (On the Persia) (Source: Homeward Mail from India, China and the East, Sept 3rd 1906).  He studied medicine at the University of Edinburgh and was one of a large number of international students at the medical school, of which several came from India.  In 1911 Bangara was successful in passing his final examination in Forensic medicine. This qualification was followed, in July 1913, by his attaining the degrees of Bachelor of Medicine and Bachelor of Surgery (The Scotsman, July 14th 1912).  In 1913 Dr Bangara added to his existing medical qualifications, by taking a Diploma in Public Health (Irish Journal of Medical Science, 1912).  Also in 1913, Indian students met to object to a decision taken by the Indian Office to place all Indian students in Edinburgh 'under the guardianship of its official representative'. This was felt to represent a slight on the students' ability to take care of themselves, and on the University's ability to maintain discipline and vigilance. Dr Bangara was involved in preparing the students' response to this 'unkind policy of subjecting (the Indian students) to any restrictions which do not equally and simultaneously apply to the other students of the university'  (The Scotsman, Feb 4th, 1913). 
For much of his time in the Forest of Dean, Dr Bangara lived at Hillside, Flaxley Street, Cinderford. 
A practising physician known throughout the forest as the 'poor man's friend', Dr Bangara worked tirelessly for the welfare of the poor and destitute when there was no Welfare State or National Health Service.  In the 14 years he practised in Cinderford, he became president of Cinderford Male Voice Choir and Chair of Cinderford & District Agricultural and Horticultural Society.
He gave huge support to the Forest of Dean mining families who had suffered the extreme hardships of the 1926 coal strike and general strike.  Dr Bangara was a household name throughout the forest, and he was inextricably linked to the Dilke Hospital.  A memorial was erected to Dr Bangara at the Dilke Hospital. It was placed on the door of the X-Ray room. The plaque stated that Dr Bangara had, 'by his unselfish devotion and service inaugurated this department of the hospital. He lived for mankind'. (Gloucester Citizen, Oct 28th 1928) 
One of the countless examples was the poor patient who asked for her bill, and when she got home found a ten shilling note from Dr Bangara inside. 
In November 1924 Dr Bangara made plans to leave Cinderford to return to India as his father as unwell. He was expected to be away from Cinderford for 'a considerable time'. He returned on that occasion in June the following year, at which time 'he was accorded the heartiest possible welcome by his Forest friends' (Gloucester Chronicle, Nov 27th, 1927). 
After his untimely death of a severe attack of influenza aged just 46, Cinderford's streets were lined five deep with people joining in with the funeral procession. Blinds were drawn in the houses, all the shops were closed and black drapings were hung in the streets. The Baptist church that could seat over 1000 people was full. 
Subsequent to the funeral Dr Bangara's body was taken to Perry Barr, Birmingham for cremation.  His ashes were then returned to his home town, Mangalore, India, where a further ceremony took place, attended by an 'unusually large and distinguished gathering'. His casket again bore the words 'He Lived for Mankind'. 
The ceremony was held at the local Brahmo Church, the Brahmo Samaj Mandir, with the Brahmo Minister officiating his prayer service. (The Brahmo Samaj bases itself on the Upanishadic teachings of Hinduism. It does not subscribe to idol worship and has a Minister, who conducts the prayers and is a lay person.) The Chief Pastor of the Evangelical Mission also spoke, as did a former school friend. The latter spoke of Dr Bangara's contribution, through his work in Cinderford, 'to bind the East and West in bonds of mutual love and goodwill'.
Dr Bangara's ashes were committed to the ground, in a plot beside his father (who had died just a few months earlier) and near to the tomb of his mother. (Gloucester Journal, Nov 27th 1927). 
Our Foresters' Forest Green Plaque celebrating Dr Bangara's life is now proudly on display on Cinderford's Clock Tower.
Local Councillor Graham Morgan says: 
"He did remarkable work to help the poor working people of the Forest."
Image credit: public domain.
Our thanks also to Caroline Prosser-Lodge for providing detailed biographic detail.