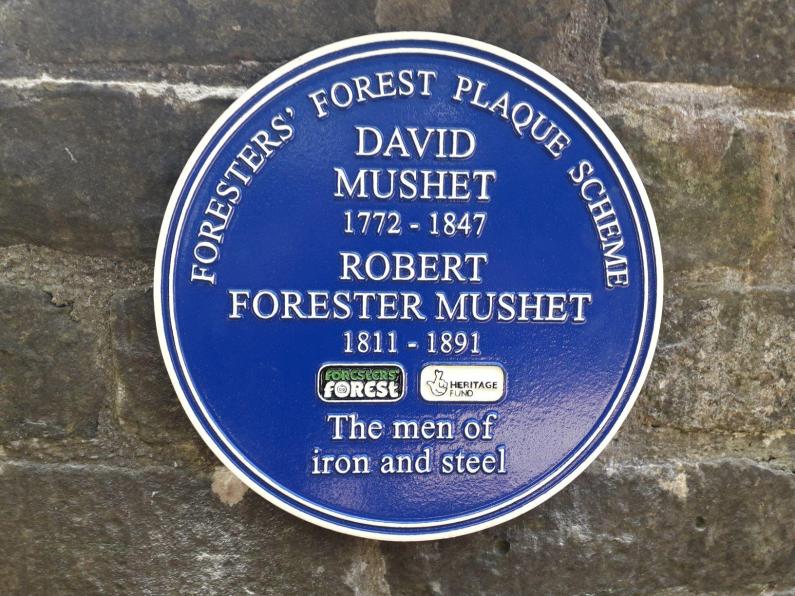 Men of iron and steel
A combined blue plaque nomination for David and Robert Mushet.
David Mushet (1772-1847) was a Scottish scientist well-known for his inventions in the field of metallurgy.  David moved to Coleford to manage the Whitecliff Ironworks and its associated ore and coal mines. 
David purchased land and set up his own small ironworks at Dark Hill in 1818.  There was also a laboratory in Coleford where much research was done. His book,  'Papers on Iron and Steel', ran to 900 pages when published in 1840.
The conserved furnace at Whitecliff is the only surviving example in southern England of an early coke-fuelled blast furnace.
Robert Forester Mushet (1811–1891) was born at Tump House, Coleford.  After some study at Cambridge he returned to Coleford and joined his father's various enterprises in metals and mining.  Later, Robert became a steelmaker at Darkhill and he researched iron and steel in great depth.
This led to his two discoveries of worldwide importance. First he cured the failure of Bessemer's Process for bulk steel making. He then went on to invent the world's first tool steels. These were so successful in engineering that their production moved from the Titanic Steel works near Darkhill to Sheffield.
In support of this nomination, Mayor of Coleford, Nick Penny, and Janet Marrot at the Coleford Area Partnership/Heritage Open Days, both say: 
"The significance of both of these men is the progress made in relation to national and international development of the built environment."
PLAQUE LOCATION
The combined blue plaque commemorating the Mushets can be seen at the entrance to Whitecliff Ironworks, Newland Street, Coleford GL16 8NB. This plaque happens to be made from cast iron, whilst our other nine plaques are ceramic. Iron was felt to be a much more fitting, if not vital, material for our plaque commemorating our 'Men of iron and steel'.
Listen to this excellent podcast by Jo Durrant to learn more about the Mushets:
Image credits: Accession number 2018.32 'David Mushet portrait', copyright permission provided by Dean Heritage Centre. Robert Forester Mushet, copyright permission provided by Dean Heritage Centre and Forest of Dean Local History Society.
The History Society also erected a plaque at Forest House, Cinder Hill, Coleford, GL16 8HQ, the former home of David and Robert Forester Mushet.